***Disclaimer...someone's having a bit too much fun with the "instamatic" application on her phone, which explains the funny color tones and blurred edges on the pictures (aren't they cool though?1? Huh?!? Yes???!), so please be patient with me.. Soon enough I'll grow bored of this ability and just post normal pictures. Thanks!***
My lovely grandmother celebrated her birthday this past weekend. To start off the festivities (and the commencement of my spring break), Mr. Mike and I indulged in some fish burritos.



I love their marquee; it changes often and is clever.






and we were excited to eat.
We were patient waiting for our food...
but this is what someone looks like when you get in between him and his tilapia burrito.
The long awaited burrito.
We then had cake at my aunt and uncle's house. I failed at taking pictures of the beautiful spread they had set up but I did snap one of the red velvet
bundt cake
I was so excited to add to the mix; it had bumble bees and that giant flower in the center...♥
The next night we ventured out to this restaurant:
It's on Skyline Boulevard and has a lover-ly view of the bay area, as well as some yummy food. I feel a bit sheepish taking pictures of food, but oh well! We had some yummy hors d'ouevres and then dessert was soufflé which they're quite good at making there. M and I had the gran marnier sauce on ours but there was an extra raspberry one floating around that was not too shabby. Fun fun and a great birthday!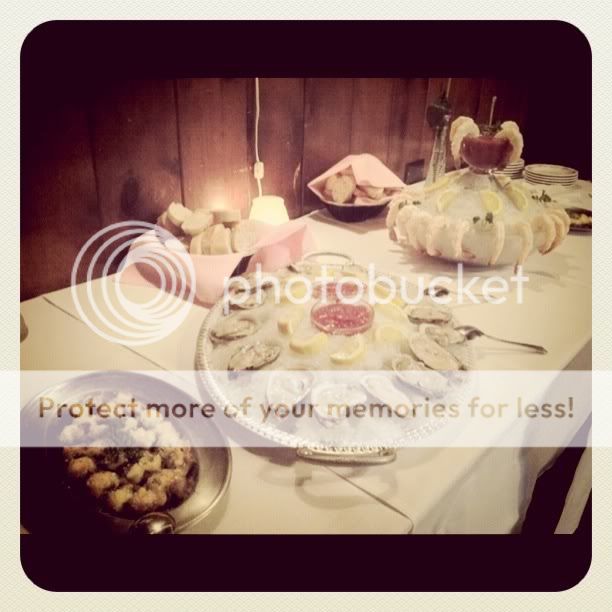 We had stuffed mushrooms which were divine and didn't go too fast since the younger kids thought they were snails; ha!
I love when you get sorbet in between courses; it's like extra dessert!
Soufflé!
YUM!
Happy with those "snails" ☺
Me and the birthday gal...♥
It was a great weekend and I'm so lucky to have such an awesome grandmother; happy birthday and I hope you had as much fun as we did!