There's not much to report today. I slept in, ran five miles, went to a graduation party for a student of mine and then my aunt and I went to Ikea for something like four hours.
I stayed up far too late last night reading so I let myself sleep in. As soon as finals week hit I started my preferred summer schedule, staying up later than I should, incurring red and tired eyes, and sleeping in past nine. I would like to be a bit more responsible, though, and try to sleep a bit earlier and wake a bit earlier as well. Here's to hoping and trying!
The five miles was longer than I had run since the half way back at the end of April. I have been hobbling about in three mile spurts here and there since then. The busy pace of the end of the school year hasn't helped my running. As the creepy looking little runner girl on the below right reminds us, my next marathon isn't for 5 months, 4 weeks and 1 day from now, but I'm thinking about it. I'm going to do a 17 or 18 week training plan, so I have some leeway as to when I begin, but the plan does not start at zero, so I'd like to get up my miles before then. I'd also like to go to Boston, but that's another post. Anyway, the five felt great, despite the muggy yet cool weather.
I am always happy to go to student graduation parties. It's really neat to get to know families a bit more and since the actual graduation is such an abrupt time to bid farewell, a party the next day is much more relaxed and I'm able to chat with students and be nosy about their future plans without feeling like there are many others that I want to catch before they leave.
My dear auntie and I love wandering around Ikea. I know that some people just loathe the place, but I am not one of them. We started with dinner which was supposed to be my picture of the day, but I was too hungry to take any shots before I ate, so oh well. I did, though, have a mini princess cake for dessert! We wandered after we ate until closing. The little fake rooms & bright colors are my favorite part; they're partly inspirational but mostly just eye candy for me. The different colors and textures everywhere really appeal to my optic nerves. I didn't walk away with much tonight, a neat book on different fabric and furniture uses, an Ikea publication actually, and some storage items. Also, I took away many ideas for wedding centerpieces; I'm (foolishly) planning on making my own, non-identical decorated centerpieces, small plants will probably be involved, but I'm thinking of interesting/funky things I collect and compile according to a theme per table...I may have mentioned this in an earlier post, but I'm pretty tuckered right now and don't compelled to look back. After some research and more formal planning I'll go back and get the fun stuff for my reception's tables. I did snap a picture for my dad, though, since it had his name on it.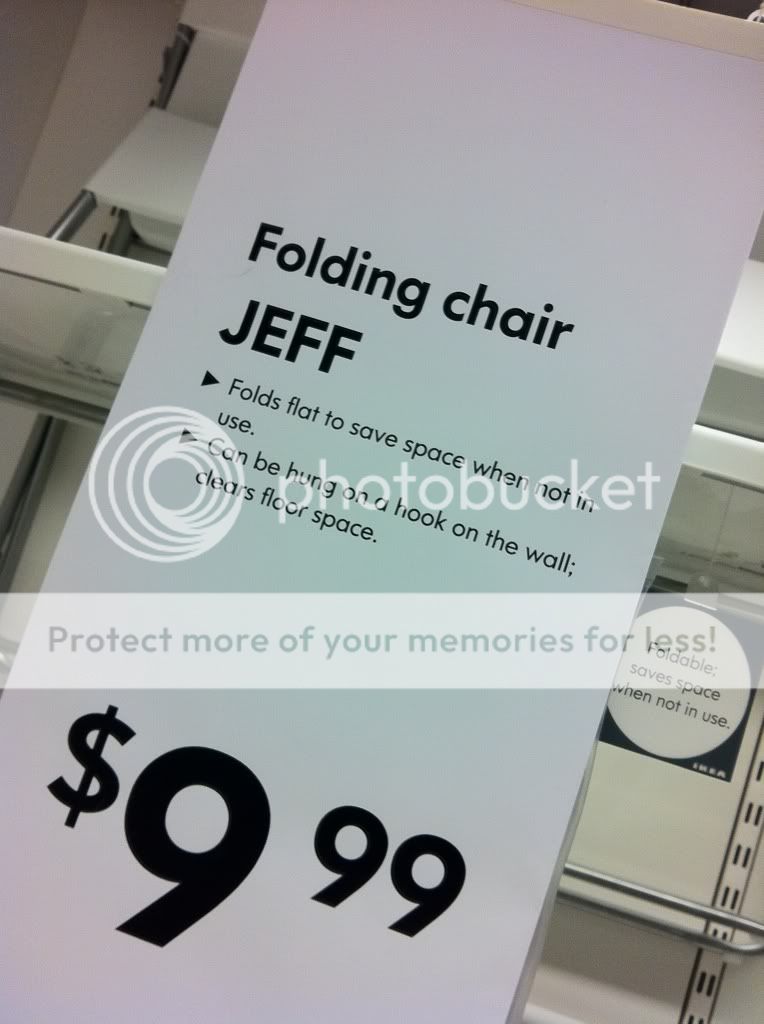 Very affordable...
This weekend was a great start to my summer vacation, though I still have some loose ends to tie up tomorrow and Monday. Let's hope it warms up a bit so that the weather can match my more relaxed attitude ;)
xoxo, natty ♥